Call for Pitches to Still Point Issue 6: TANGLE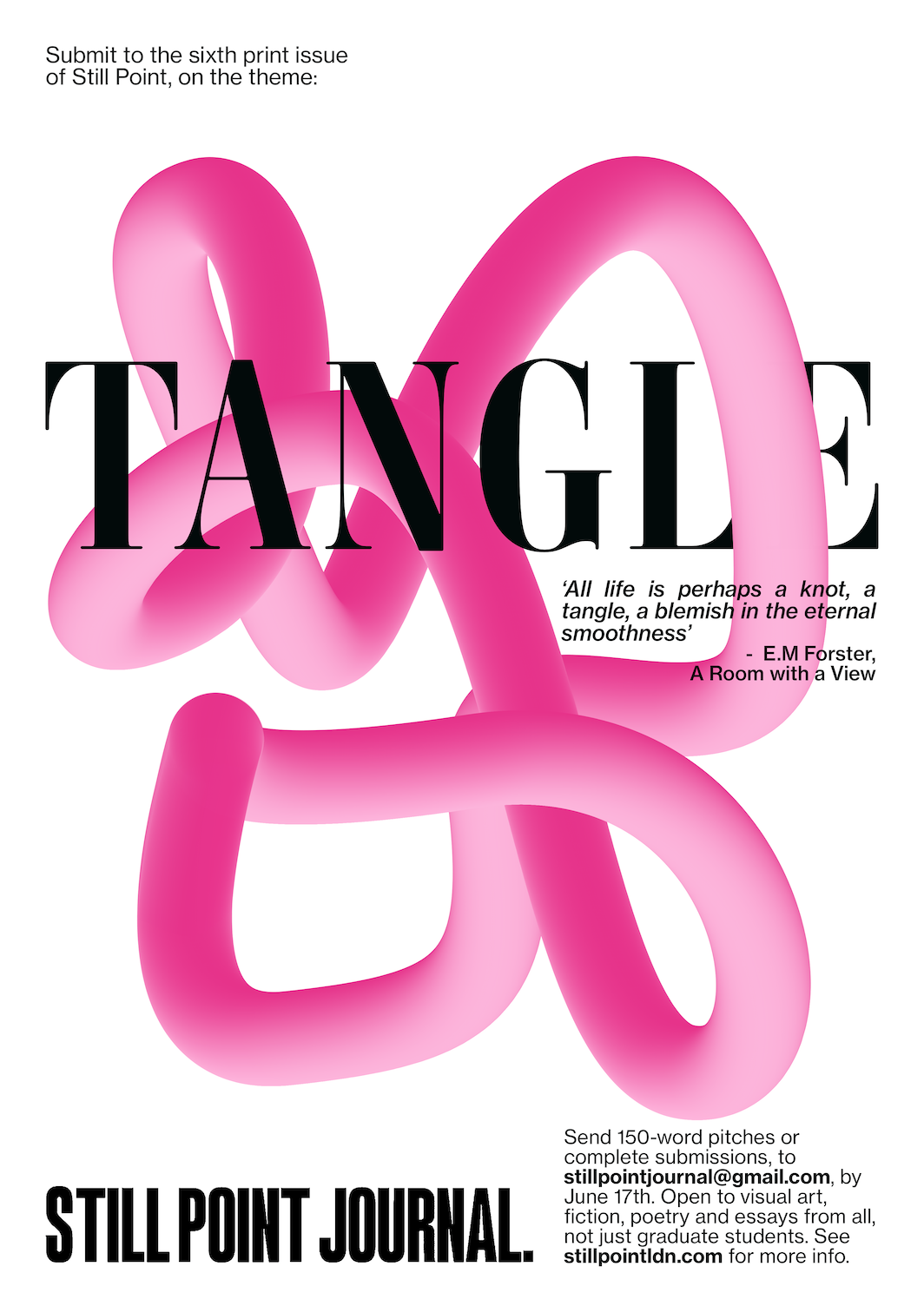 DEADLINE EXTENDED TO JUNE 27TH

We're thrilled to be opening up to pitches–from everyone, not just graduate students–for the sixth annual print edition of Still Point, the AHRC-funded journal of fiction, poetry, essays and art. Issue 6 will be on the theme:
TANGLE
'All life is perhaps a knot, a tangle, a blemish in the eternal smoothness'
- E.M Forster, A Room with a View
To articulate complexity and contradiction, we often rely on metaphors of entanglement and knottiness. Even the very word "complex," like its cognate "perplexed," stems from the Latin plexus, meaning "interwoven." A tangle might represent intractable confusion, or even chaos. But tangles also have a more positive valence: the mutual entanglement of ideas and cultures, which is generative of creativity and diversity. Entanglement can also express a tense, tactile proximity between people or things. During the Renaissance, lovers locking eyes were thought to have entangled the eye-beams which enabled vision; now, sub-atomic particles are linked across space-time by "quantum entanglement." We hope that this issue of Still Point will itself become a tangle of genres, forms, and ideas.
Pitches of visual art, fiction, poetry, or essays may (but need not necessarily) consider:
- Order and disorder; complexity and simplicity
- Interdisciplinary entanglement between ideas, forms, and genres
- Material tangles: "threads, hairs, fibres, branches, boughs, or the like, confusedly intertwined or interlaced" (OED, 'tangle' n.)
- Romantic entanglements, social muddles, personal mix-ups
- Textiles (and texts): spun yarns, woven tales, interlaced narratives
- Ideological and political tangles: "To fight, to engage in conflict or argument" (OED, 'tangle' v.); "a confused network of opinions, facts" (OED, 'tangle' n.)
Please send 150-word pitches or complete submissions, to stillpointjournal@gmail.com, by June 17th June 27th. We're very much looking forward to reading your work.