Gertrude Gibbons: 'Monologue of a Violin'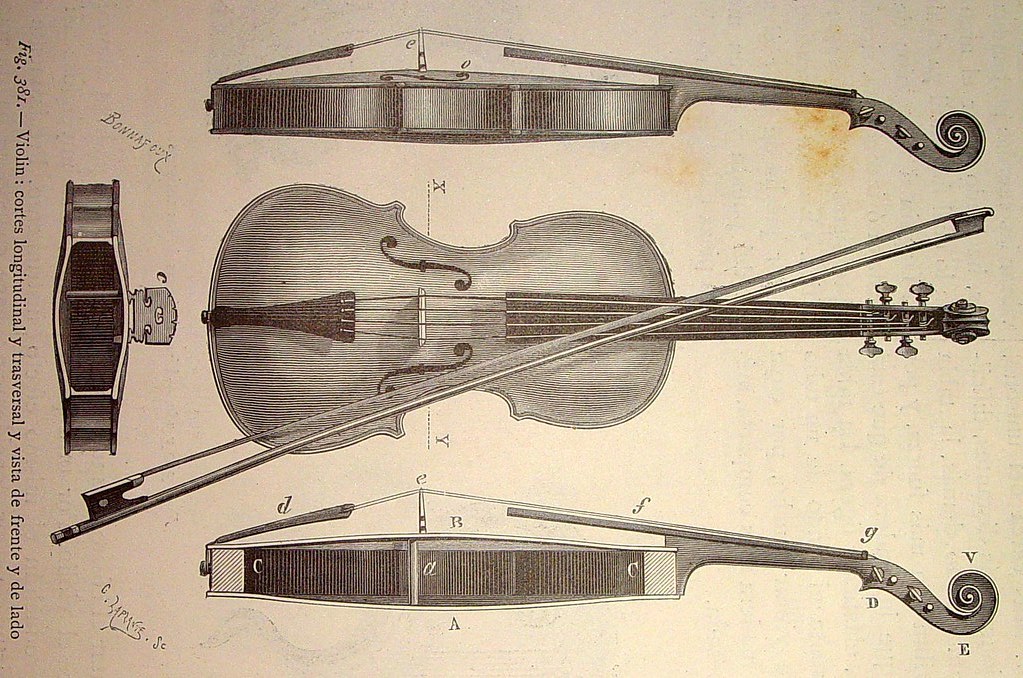 For Stephanie Mengyang Fan

[If there were to be stage directions, it would be to listen to Eugène Ysaÿe's "Obsession" from Sonata No. 2 for Violin, Op. 27 (1923) following the introduction.]
I don't know from where the ideas come. I never know the instant I am about to speak. I lie against blissful velvet, snugly enclosed, away from heat, away from frost. I hold my thoughts in silence.
The itch, by now familiar, signals the opening of my mouth and I know then the very moment I have begun to speak. Gradually, the ideas I didn't know I had come unravelling from my body, through the symmetrical dark curvatures in my waist. And my imagination runs away with me, speaking memories and conjuring images from my echoing womb.
Shadow arms circle my waist, and I am positioned against a shadow neck. My own neck is embraced by shadow fingers. In a matter of seconds I go from my horizontal bed (deeply enwrapped in thought, comfortably cloaked in silence), to an unsteady horizontal position in mid-air, held only by a ceaselessly moving shadow. Yet, though occasionally I withhold sound out of frustration and irritation at the disturbance, I acknowledge that it is by this shadow presence that my thoughts are given expression, that I can hear my own voice, and that I know that I am speaking. For, when I speak (or later think I might have spoken) inside my velvet case, I know that it is as much as if I had never spoken since no one could affirm it.
My breath, freshly coated in rosin, the powdered stuff of trees, draws across my middle and here, after a sharp intake of my sleepy silence, I speak.

Stop. Quick aside: that's to quote Bach. One of his openings. What was I trying to say? There is order, delicacy, light. What? A stroll through the park. Yes. The rain is only light. That's what he said? I'll cover you. That's what he said. Swift-steps across the fast-growing puddles; feet hardly touched the ground. I laughed. Oh.

...light-hearted, light-hearted! And no, and no, and no. Forget it, I don't want to speak. Put me back to sleep! No, no. What was it he said later?

…those dripping oak leaves, quietly, little drops glistening on darkened eyelashes. Is that it? My breath quickens, it triggers the pulse ringing through me. Stop.
Those shadow arms are dancing; my breath surrounds me, circling with pale grey ice loops of cool air, pushed away by my warmth. I'm thrown towards the loops, forcing their dispersion. Coils of blown-out candles. I chase those coils of grey, rising, dropping again

lower now they expand outwards and I needn't cut them.
Each outward breath, placing me across water, a memory of the sea. The coils of smoke are lines of foam. The palm of my hand reaches against the inside curve of the wave, and I draw it over me, above and behind me. Allowing the inky water to subsume me, the rocking, running, reaching, crying; straining, shouting, slipping, sliding, breaking, ceased. No longer need I think of breath or focus on the sound of my voice. I was consumed by the resounding echoes emanating in a coil from around my wooden soul. I still hold the silence of unexpressed thought, cloaked by the wave's smooth and velvet coolness.

Gertrude Gibbons is a writer, editor and violinist. She is studying at the Royal College of Art, and studied English Literature at the University of York, French Literature at the Sorbonne University in Paris, and won the Jacques Berthold Prize in 2019.
This piece was read by Gertrude, with interpolated music, on Episode 3 of our podcast, available here: