'Solidarity Over Sympathy': Catherine Kelly on the UCU Strike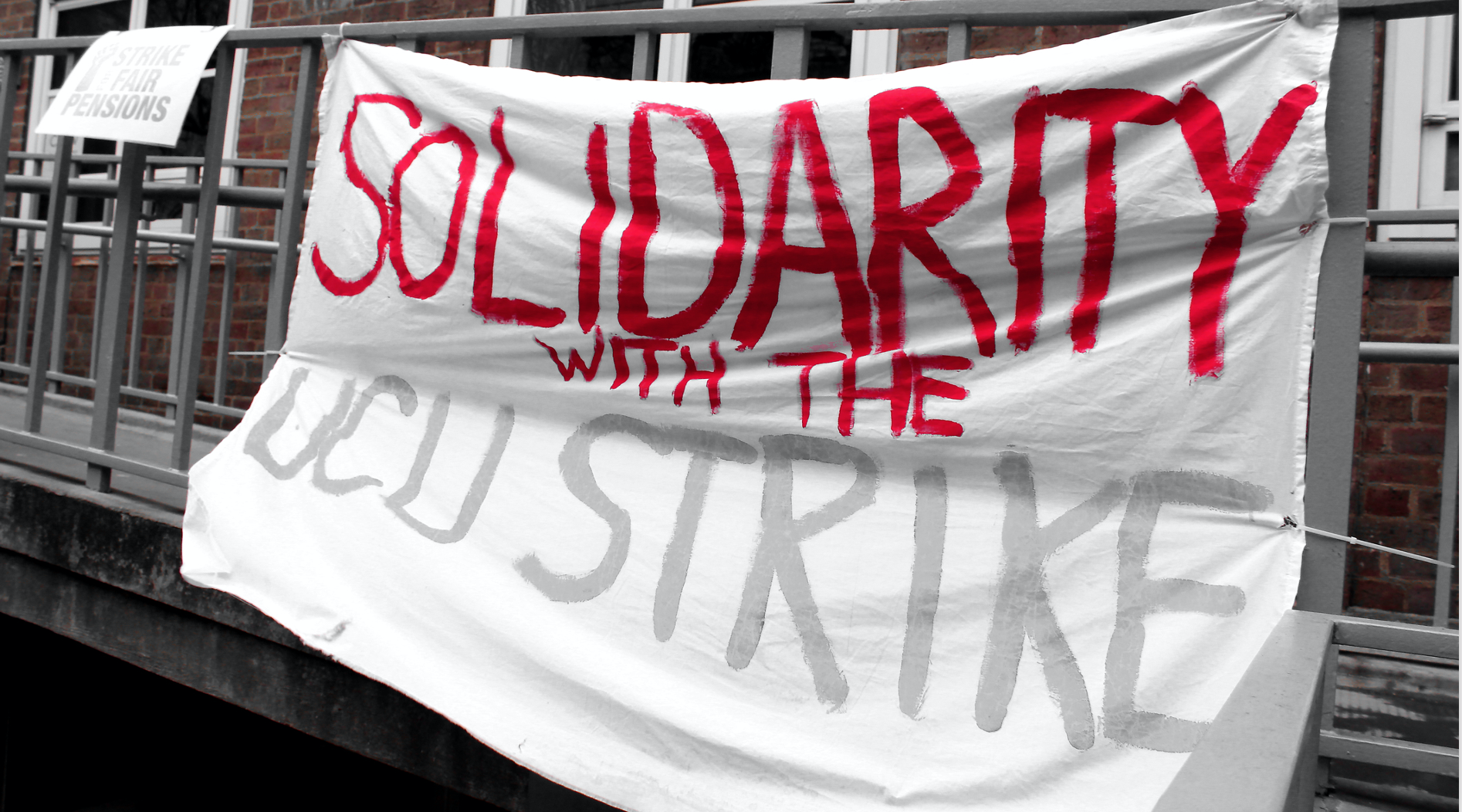 As UCU members around the UK vote on whether to take strike action, student unions have been assessing their own positions. On the 20th of October, the Students' Union UCL released a statement in which they declared their decision not to support the potential strike. This was based on a vote of the six elected student officers. On the 25th, KCL's student officers struck a similar note in their statement, which followed a student vote on whether to support strike action. Although the statement was intended to share the results of the vote, the student officers went further in outlining the reasons why they would not support the strike:
Whilst we are sympathetic to the cause and deeply appreciate the work of King's academics and administrators, we believe strikes would only add to the significant damage students have already had to endure with two years of national lockdowns, continued lack of in-person teaching, and most importantly loss of learning and student experience.
Their statement shows a troubling misunderstanding of the severity of the crisis in higher education, particularly for graduate teaching assistants (GTAs) and early career academics.
In KCL's English department, where I study and teach, 70% of first year undergraduate teaching is done by GTAs, who are usually PhD students working well beyond the hours we're paid for. It's not an exaggeration to say that there would be no university without us. Nevertheless, student unions seem to have forgotten we exist. How else to make sense of the claim in the SU's statement that "students are at the heart of all our efforts"? This week, dozens of GTAs at King's were either paid late or not paid at all for a month of teaching. These are the same students who will have their wages docked if they choose to strike over the next few months. Instead of responding to this issue and supporting GTAs' fight for better working conditions, KCL's student officers' wrote that they would "lobby the university to use salary savings to create a fund to provide financial compensation for students' lost learning, should a strike take place." In other words, they would push to divvy up our lost income and distribute it to our students in lieu of seminars, entrenching the idea that undergraduates are just disgruntled customers who should get what they pay for.
In criticising the KCL SU statement, I'm not criticising the students themselves. For one thing, it's far from clear that this vote was representative of the student body: students were given a two day window in which to vote, and the SU has not released any information about the number or margin of the votes. And universities are opaque institutions by design. Most students, particularly undergraduates, have no idea how poorly paid, precariously employed and overworked many of their lecturers and seminar leaders are, nor will most have been taught about the tactics and history of collective organising. They are understandably frustrated by further disruption after two years of studying from home. But this is where statements by student officers at KCL and UCL fall short. It should be the role of student unions to clearly explain the UCU's four fights, to discuss staff working conditions and organising tactics. Solidarity between students and staff doesn't come naturally; it has to be actively forged, in part through political education. Instead, the student officers of KCL and UCL have chosen to do the senior management's work for them. They are fooling themselves if they think that management will not use these statements to pressure staff to back away from strike action and accept the increasingly swift erosion of workers' rights in institutions of higher education. In fact, this has already begun. In an email to students, Goldsmiths' Warden, Frances Corner, used the UCL statement as evidence that now would be an indefensible time to strike. But when we say that staff working conditions are student learning conditions, we mean it. If we can't defend our right to fight for secure, liveable work in the university, management may find that they have no one to teach the students they claim to be supporting. In their statement, KCL's student officers said that they were "sympathetic" to our demands. I would take solidarity over sympathy any day.
Note: This article has been updated to correct the proportion of undergraduate teaching done by GTAs in the English department at KCL. The figure of 70% refers to first year undergraduate teaching and not teaching across the department as initially stated.


Catherine Kelly is a second year PhD student at KCL, studying lesbian feminist literary networks. Her writing can be found in the Cardiff Review, the Dublin Review of Books and Datableed.